Sport and fitness:
Hiking, mountaineering, bicycle tours, rafting, canyoning, paragliding, golf ...
Spa holiday: Visit the new spa & fitness resort Ruperthus-Therme, feel the power of AlpenSole, Thermal Area, Sauna Area, Health & Fitness Center, Beauty & Vitality Center
Ski areas: To Bischofswiesen -Götschen 14 km, Ramsau - Hochschwarzeck 17 km, Berchtesgaden - Rossfeld 25 km, Berchtesgaden - Jenner 25 km, Unken - Heutal 25 km, Lofer -Loferer Alm 30 km, Lofer - Steinplatte 45 km. Cross-country and sledge hill in 10 minutes for to walk.
Places of interest: Predigtstuhlbahn (cable car), Quellenbau and old salt mine, Thumsee (idillic mountain lake), church St. Zeno, Gradierhaus (open-air alpine saltwater inhalation), Berchtesgaden salt mine, Rossfeld scenic road, house of national park, lake Koenigssee, lake Hintersee, Wimbachtal, Ramsau church, Almbachklamm, Kehlsteinhaus (eagles nest), Untersberg (cable car), Weissbachschlucht, Aschauer Klamm, City of Salzburg with castle of Salzburg, Mozart`s birthplace and Getreidegasse, Mirabell Palace and Mirabell Garden,  Palace Hellbrunn and fountains, Werfen castle, Werfen World of ice giants, Grossglockner high alpine road ...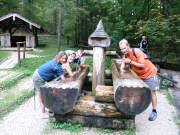 Kneipp cure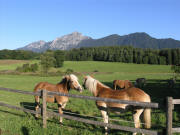 Paddock